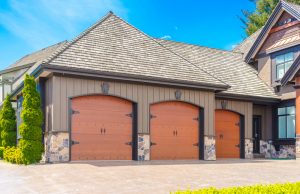 Whether you're thinking about updating the appearance of your home with a new Sterling Heights garage doors or you need garage door repair services, you've come to the right place. Superior Garage Doors can help with all of your garage door needs. We provide both residential and commercial services and we have three convenient locations in Michigan to serve you. Contact us to discuss design and installation of a new door or for regular garage door repairs or emergency service.
Our Sterling Heights office is located at:
Superior Garage Doors
8737 Shannon Dr
Sterling Heights, MI 48314
(586) 571-8160
The garage door is the gateway to your home. Whether you realize it or not, it makes a statement about the people who live there. The right garage door can set your home apart from all those around you. One of the first things to consider when looking at new doors is the type of door to buy. Location and climate often impact this choice. We have found insulated garage doors to be one of the best choices for our Michigan residents.
The next thing to consider is the type of door. Most doors are either made of wood, steel, or fiberglass. Each have unique benefits and come at different price points. The next thing to consider is the appearance of the door. Choosing the right color, style, and hardware can really enhance the exterior of your home. Give our online garage door designer a try to help narrow down the decision process.
In addition to garage door replacement and installation, Superior Garage Doors can fix your broken Sterling Heights garage doors. Whether you have a broken garage door spring, need a new garage door seal, or are in the market for a garage door opener replacement, we can help! We offer flexible appointment times and emergency service.
About Sterling Heights
Sterling Heights is located in the heart of Macomb County. The city is considered one of the best places to raise a family in Michigan. Each year the city puts on the Sterlingfest Art and Jazz Fair, which attracts more than a 100,000 people. This three-day festival features many popular jazz artists, a juried arts and crafts fair, carnival and midway, and delicious food from local restaurants. Low crime rate, great schools, and close proximity to several amazing parks and recreational activities make Sterling Heights a great place to live.
Helpful Resources in Sterling Heights:
 Sterling Heights City Hall
40555 Utica Road
Sterling Heights, MI 48313
(586) 446-2489
Sterling Heights Police Department
40333 Dodge Park Rd
Sterling Heights, MI 48313
(586) 446-2800
Sterling Heights Fire Department
41625 Ryan Rd
Sterling Heights, MI
(586) 446-2950
Sterling Heights Library
40255 Dodge Park Road
Sterling Heights, MI 48313
(586) 446-2665
Henry Ford Medical Center
14500 Hall Rd.
Sterling Heights, MI 48313
(586) 247-2700
For more information or to schedule an appointment regarding Sterling Heights garage doors, contact Superior Garage Doors at (586) 571-8160.