Garage door problems are inconvenient and sometimes dangerous. Superior Garage Doors is open seven days a week because we know that garage door emergencies can happen anytime. With locations in Almont, Shelby Township, and Sterling Heights, we can promise you that emergency garage door repair services are right around the corner.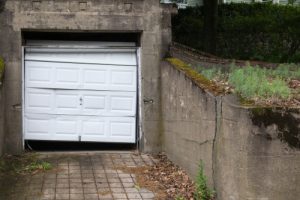 When the Garage Door Spring or Cable Breaks
Garage doors are heavy, and the springs and cables that lift and lower the doors are powerful. When this hardware malfunctions, the tension of the spring and the weight of the doors create an extremely unsafe situation. Do not attempt a do-it-yourself repair or enlist the help of an amateur. Our experts are trained and equipped to replace broken springs and cables to get your garage door working safely again.
When the Garage Door Track is Bent
Tracks and rollers are just some of the many components that enable your garage door to go up and down. When any part of the vertical, horizontal, or curved tracks becomes bent or misaligned, the rollers will not travel smoothly, and the door can become damaged.
It may be tempting to reverse a minor bend with a hammer or crowbar, but an expert should be called in to make sure the tracks are properly aligned. Replacing a portion of the track is not something you should tackle on your own.  The tracks hold the open or closed garage door in place – removing even a small section of the track can cause the heavy door to fall, resulting in serious injury or death.
When the Garage Door Opener Malfunctions
Garage door openers provide convenience and security. But when they stop working properly, they deliver nothing but frustration. Superior Garage Doors can help you troubleshoot the problem, be it a non-responsive remote control, a dead wall switch, or a door that doesn't go in the direction it should.
When the Garage Door Lock Stops Working
If you use a garage door lock instead of an automatic opener, you may find that the lock occasionally needs to be replaced. Over time, the locking bars and locking holes can become misaligned, making it difficult to use the key to lock or unlock the door. Superior Garage Doors can replace your malfunctioning lock with a secure lock kit that won't let you down.
Emergency Garage Door Repair Services in Shelby Township, Michigan
There is a sense of urgency involved with garage door repairs. When the door won't open, you can't get out of your garage in a hurry, whether you need to get to an important meeting, pick up the kids, or rush to the emergency room. You need that door to open.
Or maybe you need the door to close, but it won't. You don't want to leave your house exposed to intruders or break ins. You want to know that your garage door is secure enough to keep unwanted people and pests out.
The experts at Superior Garage Doors in Macomb County can help, any day of the week. Contact us to discuss your immediate concern and to get emergency garage door repair services today.