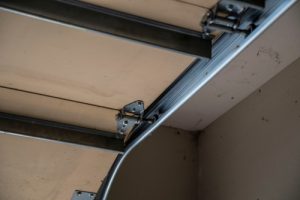 The telltale sign of worn or broken garage door rollers is a clicking sound when the door goes up and down. Most garage door problems are cause and effect. It could just be the rollers that are a problem, or it could be another issue that has affected the rollers. The solution is only as good as the diagnosis, and that comes from a professional garage door repair expert at Superior Garage Doors, serving Almont, Shelby Township, Sterling Heights, and neighboring areas.
Common Garage Door Roller Problems
Garage door roller problems can be kept to the rollers themselves or the problems can stem from another part problems. Here are just some common garage door roller problems:
Poor lubrication: If a garage door roller doesn't have enough lubricant it won't move smoothly and it can lead to other problems, like a loud, shaking door. The roller itself can even fall off and cause the door to come off the track.
Track issues: When garage door tracks are not well-anchored, the rollers will go off track. Dented tracks can be easily repaired so the rollers can continue to run smoothly, but heavy damage may call for both track and roller replacement. If there is track misalignment, this may cause a gap between the rollers and the rails, producing rubbing noises.
Dirt and grime: A buildup of grease in the tracks will attract dirt and cause rust, preventing garage door rollers from moving properly – instead of rolling, the rollers will slide.
Worn out: Older garage doors with steel rollers can wear out, with the ball bearings stretching and the roller leaning until the roller breaks off.
Types of Garage Door Rollers
Garage door rollers are the small wheels that ride along the garage door track. Seven- to eight-foot high garage doors typically require 10 to 12 rollers to operate. The job of the rollers is to allow the doors to roll up and down. There are several types of rollers:
Plastic: Plastic garage door rollers may come standard with any new-build garage door as a low-cost option, but they have no ball bearings and typically last only two or three years before replacement is necessary.
Steel: Built with 10+ ball bearings (the more the better) that can be lubricated, steel garage door rollers can last for over five years, or around 7,000 cycles. This type of roller can be noisy if it is not equipped with a nylon tire.
Nylon: This type of roller is long-lasting and has a sealed ball bearing design for a smooth, quiet door operation that also reduces stress on the automatic opener. Overall performance will be better with nylon rollers and have a big impact on the overall performance of the lifetime of your garage door.
Avoid DIY Garage Door Roller Repair
Replacing a broken garage door roller may seem like a simple repair for a relatively small part. The actual job takes several steps to complete, however, and a novice can encounter plenty of complications along the way – some quite dangerous.
Keeping up with annual maintenance on your garage doors helps ensure that all the parts and pieces are in good condition and working properly. When garage door rollers aren't operating properly, other problems can arise, like a door going off track or prematurely worn out gears and belts on the garage door opener.
If you suspect that there is a problem with your garage door rollers, or if you are ready to schedule an annual maintenance appointment, contact Superior Garage Doors. We serve Almont, Shelby Township, Sterling Heights, and neighboring areas.