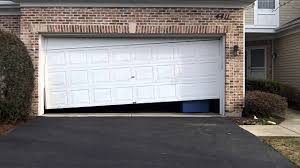 A garage door that is off track or crooked is an alarming sight. It's also a dangerous situation that needs to be remedied quickly to avoid personal injury or property damage. There are many possible reasons for a garage door to be off track, many with fast and easy repairs. Seek a professional diagnosis from Superior Garage Doors, trusted garage door repair and installation company serving Almont, Shelby Township, Sterling Heights, and the surrounding areas.

Causes of an Off-Track Garage Door
If a garage door is out of balance, it can close too quickly, posing a serious hazard to people and pets. This imbalance also strains the door's parts. When you know your garage door hasn't been hit by a car or damage by some other impact, one of the following things could be the cause of its being off track:
Broken cables: The garage door cables may have broken or come off the drum, problems that can be caused by regular wear and tear that leads to corrosion and eventual fraying and breakage of the cables. The door cannot be lifted evenly or completely if a cable is broken.
Bent track: Tracks are what make garage doors open and close smoothly. If the tracks are misaligned or bent, the door can fall off the track.
Rollers: Bent, worn, or broken rollers can cause the garage door to malfunction and jam and interrupt the work of the cables. Any abnormal drag of the rollers can cause an unnecessary amount of friction which could force the cables to fall off. If the movement of your garage door is bumpy and loud, this may indicate a developing problem.
Torsion spring: The overhead springs on your garage door are tightly wound pieces of metal that hold tremendous energy to pull or push the garage door along its tracks. If a spring breaks, the door may still operate, but it could be crooked, slow, or off-track.
Poor quality components, lack of maintenance, and frequency of use are all elements that impact the performance of a garage door.
Repairs for an Off-Track Garage Door
You can easily do a search and find suggestions for how to repair your off-track garage door, but it is always wise to rely on a professional garage door repair technician to do this kind of work. Garage doors are heavy and, when damaged, they are precarious and can easily cause harm to an amateur repairperson.
Certainly, minor problems like rubbing, binding, or gapping could have a solution that's as simple as adjusting the screws or the position of the track, but a problem could be more advanced than you realize. You want an experienced pro to determine the cause of your off-track garage door and develop an effective solution.
Professional Repair for Off-Track Garage Door in Shelby Township, Michigan
Superior Garage Doors technicians repair all brands of garage doors, from LiftMaster to Chamberlain, Linear to Genie. If you have a garage door off track or a crooked garage door, find out what's going on before any other damage is done. Contact Superior Garage Doors at any of their three locations – Almont Garage Door Repair, Shelby Township Garage Door Company, or Sterling Heights Garage Doors – for repair or emergency service of your garage door.