A damaged garage door seal can lead to problems inside your garage caused by weather, pests, and more. Solve your problem and easily replace your garage door seal with help from Superior Garage Doors, serving the Metro Detroit area with locations in Almont, Shelby Township, and Sterling Heights. Contact us today for an appointment or estimate.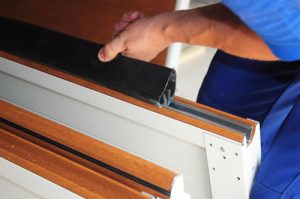 Signs You Have a Damaged Garage Door Seal
When your garage door seal has been compromised, there are many clear signs of damage, wear and tear, or deterioration, including:
Moisture around the garage door.
Water on the floor after a storm.
Snow blowing in.
Garage is colder or hotter than usual.
An overabundance of insects.
The presence of pests or rodents.
Garage doors are intended as a security measure for your home and to protect your vehicles and whatever else you store inside your garage. Damaged weather stripping is an invitation to all unwelcome things and can lead to costly repairs.
Why You Must Avoid DIY Garage Door Seal Replacement
Harsh Michigan weather conditions easily affect garage door seals, wearing away at even the most robust materials. Over time, the seals on garage doors deteriorate naturally. This combination eventually leads to the need for replacement.
It's easy to purchase weather stripping and new garage door seals online, which makes people think it's easy to replace them. This, however, is not a DIY job. As with all matters involving garage doors, it's always wise to choose professionals to take care of the work.
The configuration of the seal must be determined, and the supplies you need will vary based on whether your garage doors are wood or metal. There could be a two-part seal with a weather-stripping insert and retainer or a single-piece seal. All garage door seals are secured to the lower panel of the door using screws. Employing the wrong equipment or tools could lead to more problems.
Plus, a damaged seal could be an indication of larger structural problems, something a homeowner may not recognize automatically. Hinges may need to be replaced or there could be rotting trim. Neglecting to address these issues at the same time as the weather-stripping can lead to bigger and more costly repairs in the future. Sometimes, depending on the age of your garage doors, full door replacement is a better choice than piecemeal repairs.
Things to Consider When Replacing a Garage Door Seal
When you suspect your garage door seal needs to be replaced, there are many areas to consider and many potential culprits of the problems you're experiencing.
The seal may need to be replaced or added to on the bottom seal, while weather-stripping on the stop molding along the sides and top may also need be managed. To make the door as airtight as possible, seals might be recommended between the door panels.
There is also a threshold seal that can be applied to the floor of your garage, serving a similar function to the bottom seal on the garage door. A threshold keeps out surface water, particularly for a driveway that slopes down toward a garage. They also help fill large gaps below a door.
Replace Garage Door Seal in Shelby Township, Michigan
You know there is a problem with your garage door when snow and rain are getting inside, you're seeing an influx of insects or pests, or your utility bills are going up because you need more heat or air. Chances are, you need a replacement for your garage door seal. Best to call on the experts in to diagnose the situation and determine what work needs to be done so it's handled properly and efficiently. Contact Superior Garage Doors at any of their three locations – Almont Garage Door Repair, Shelby Township Garage Door Company, or Sterling Heights Garage Doors – for repair or emergency service of your garage door.