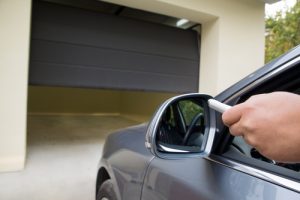 Maybe you suspect your garage door openers are getting ready to fail. Or maybe you're ready to invest in updated technology for optimum performance and longevity. Rely on the installers at Superior Garage Doors for the latest in garage door openers for Shelby Township, Almont, Sterling Heights, and neighboring areas.

Types of Garage Door Openers
Garage door openers come in all shapes, sizes, and capabilities. You may want the most innovative smart garage door opener that connects seamlessly with your home network. Or you might be in the market for a budget-friendly model that is dependable and gets the job done.
Here are the types of garage door openers available so you can select the best garage door opener and installation for your home:
Direct Drive: Ideal for attached garages that are located near bedrooms, the quiet direct drive option uses a stationary chain in a steel rail. With only one moving part in the traveling motor carriage, maintenance is minimal.
Belt Drive: Quiet and smooth, the belt drive garage door opener uses a steel-reinforced rubber belt and requires some regular maintenance.
Chain Drive: Identifiable by its thick chain, the reliable chain drive garage door opener is great for homeowners on a budget, especially those with standard aluminum garage doors. The motor can be louder than other garage doors though, so noise level is a consideration, as well as the demand for regular maintenance to counteract wear and tear.
Screw Drive: The hallmark of a screw drive garage door opener is a threaded rod lift mechanism. Powerful and reliable, this type of opener is a good choice for wide, heavy garage doors. They require minimal maintenance.
Jackshaft: A jackshaft garage door opener is a wall mount garage door opener that frees up overhead space for storage, especially if you have low ceilings, and eliminates the need for a ceiling-mounted electrical outlet. This type of opener minimizes vibrations, and all these perks come with a bigger price tag than other openers.
Wi-Fi Enabled Garage Door Openers
If you're looking for the latest in garage door opener technology, you'll want to learn as much as you can about wi-fi enabled garage door openers. There are multiple ways to customize your opener system:
Smart home: You can link your garage door opener to your home's smart hub so it can be worked remotely from a computer or mobile device.
Remote access: Connecting wi-fi enabled garage doors to your network allows you to monitor your garage doors from near or far. See if your garage door is open or closed, even open or close it yourself from a distance. You can get alerts and change settings on your phone or tablet.
Accessories: Modular smart accessories for garage door openers can include a Bluetooth speaker, carbon-monoxide sensors, adjustable fans, dual-laser parking-assist modules and more.
Features You May Want for Your Garage Door Openers
Everyone is looking for the ultimate in convenience for their home. If you have the finest garage door opener system that is on the network, you'll also want to boost power and performance with features like:
Battery backup
Keyless entry keypads
Rolling code security technology
Safety sensors
Motion-detecting overhead lights
Get a New Garage Door Opener in Almont, Shelby Township, or Sterling Heights
Superior Garage Door employs an experienced crew of garage door technicians who can provide both sales and installation services on the spot. If you don't know what you're looking for in the way of a garage door opener, but you know that you want technology and a quiet system, a Superior Garage Door specialist has your answers.
Be ready to tell us about the frequency of use of your garage doors, their proximity to bedrooms or living space, and whether remote controls and monitoring are important to you. Call any of our locations in Almont, Shelby Township, or Sterling Heights to schedule and appointment and discuss the garage door openers and installation services we offer.