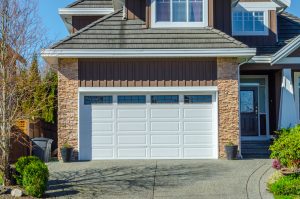 When you're ready for a new garage door or in need of garage door repair, Superior Garage Doors can help with all your garage door needs. Not every garage door company is created equal. We've been in business for almost 30 years and we know doors. We have three convenient locations in Almont, Shelby Township, or Sterling Heights. Contact us at any of our locations to schedule a garage door installation consultation or service appointment for your garage door.
Our Shelby Township office is located at:
Superior Garage Doors
6476 Woodreed Ave
Shelby Charter Twp, MI 48316
(586) 460-4280
The garage door is one of the most important and most used of all the doors in your home. Have you ever pushed that button and heard a strange clanking noise, or watched in horror as the door comes to a stop while teetering precariously from the track? It happens and usually at the most inconvenient time. Whether it's a broken garage door spring or a bent track, our experienced technicians can diagnose and fix your garage door problem fast.
When it comes to upgrading your garage door, the options can seem endless. Our team is fully trained to sell and install garage doors. Many people don't realize it but by replacing your garage door you not only boost curb appeal, you also increase the overall value of your home. Clean lines can make your home appear modern and contemporary, while wood panels provide a more classic look. The style, color, materials, and even the hardware can completely change your home's appearance.
Whether your need garage door repairs or an entirely new garage door, Superior Garage Doors is your source for expert garage door repair service on all makes and models of garage doors and professional sales installation.
About Shelby Township, Michigan
Located in Southeastern Michigan, Shelby Township is approximately 15 miles north of Detroit. It is considered one of the fastest growing communities in the Metro Detroit area. Originally incorporated in 1827 along with an area that included what is now Sterling Heights. Shelby Township was incorporated a second time in 1877. Currently, more than 73,00 people reside here.
Helpful Resources in Shelby Township:
Shelby Township Government Offices
52700 Van Dyke
Shelby Township, MI 48316
Phone: 586-731-5910
Shelby Township Police Department
52530 Van Dyke
Shelby Township, MI 48316
Phone: 586-731-2121
Shelby Township Fire Department
6345 23 Mile Road
Shelby Township, MI 48316
Phone: 586-731-3476
Beaumont Hospital
44201 Dequindre Road
Troy, MI 48085
Phone: 248-964-5000
Shelby Township Library
51680 Van Dyke
Shelby Township, MI 48316
Phone: 586-739-7414
Stoney Creek Metropark
4300 Main Park Drive
Shelby Township, MI 48316
Phone: 586-781-4242
For more information or to schedule an appointment, contact Superior Garage Doors at 586-460-4280.