Ready to change the look of your home? New garage doors let you spruce up your home's exterior, make a statement about your style, and create a safe entrance and exit for your family. The professional garage door experts at Superior Garage Doors install and repair a wide variety of garage doors and mechanisms for Almont, Shelby Township, Sterling Heights, and neighboring areas.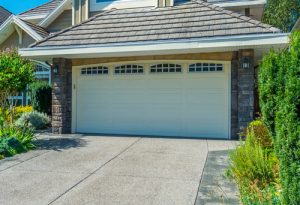 The Elements of Garage Door Replacement
Garage doors, for many people, are the main way in and out of their home, offering convenience, security, and protection. Over time, garage doors, just like any exterior part of a home, will deteriorate from daily use and harsh Michigan weather conditions. Eventually, parts and pieces will begin to squeak and creak and fail, especially if you do not have your doors serviced regularly.
You may finally decide, given the age of your home, the age of the garage doors, and the number of repairs that seem to be necessary, that a set of new garage doors is the best choice.
There are several important factors to consider as you determine what kind of garage doors to purchase:
Location: When you live in Michigan, you live with Michigan winters. Insulated garage doors are one of the best choices.
Type: You can select garage doors made of wood, steel, or fiberglass. They all have unique benefits – and unique price points.
Appearance: Color, style, and hardware all combine to create the final appearance of your garage doors which, ideally, will enhance the exterior of your home. Clean lines can deliver a modern, contemporary look, while wood panels can speak to a classic style.
The garage doors you select can completely change the appearance of your home. Whether you're moving, renovating, or just need a change, take your time when selecting the characteristics of your new garage doors.
Online Garage Door Designer
Our online Garage Door Designer helps you get begin to narrow down the garage door look you want for your home. This interactive tool asks for the width and height of your garage doors and gives you the option to upload a photo of your own home's garage doors. From there, you can choose:
Door model and construction
Single- or double-layer steel and insulation
Panel design
Windows, or no windows, and glass transparency
Door color
Decorative hardware
The images on the software will change based on your selections so you can get a good idea of what your garage doors of choice will look like on your home. You can request a quote direct from the page for the doors you designed or schedule an appointment with an installer to go over the specifics.
Get New Garage Doors in Almont, Shelby Township, or Sterling Heights
Superior Garage Door offers garage doors that are made in the United States and installed by our experienced crew of service people. We provide both sales and installation services, helping you narrow down the choices and select the perfect garage doors for your home. New garage doors also come with the ideal garage door opener system for convenience and ease of use.
Along with delivering excellent curb appeal and setting you apart from all the neighbors around you, updated garage doors can also increase the value of your home. Call any of our locations (Almont, Shelby Township or Sterling Heights) to schedule an appointment and begin the journey to an updated look for your garage door. We offer flexible appointment times and emergency services as needed.